Many of you probably know that I am a Christmas grinch, but I'm trying hard to embrace the spirit of the season this year. I bought myself a new ornament (Digger-approved), put up outdoor lights, and even watched that terrible new Lindsay Lohan movie on Netflix. I wanted to buy my cats Santa hats and take a photo of them together for an annual card, but then I remembered that no amount of ephemeral cuteness is worth a slashed carotid.
When Jo and I recorded our most recent podcast episode on "Home for the Holidays" (1995) and "Happiest Season" (2020), she suggested I take a stab at updating my holiday movie recommendations list from two years ago. If there's anything you feel I've missed, let me know in the comments and stay tuned for another essay about how [insert beloved movie name here] is pretty fucked up in retrospect. In the past, I've written about "The Holiday" (2006) and "You've Got Mail" (1998) but perhaps I should tear "Bridget Jones's Diary" (2001) a new asshole this year? You tell me.
Before you scroll any further, let's all get into the spirit by watching this '80s Eat'n Park commercial that was crucial to my childhood development:
20 Movies Available to Rent or Stream
There were some glaring omissions from my previous list, even considering my desire to avoid mainstream suggestions. All of the films listed below are available to rent somewhere. If they're included via a specific streaming service, I've noted it for your reference. Everything on this list is something I enjoy watching during the holiday season either due to cozy vibes, nostalgia, or beloved actors doing stupid and/or endearing shit. Most are Christmas-centric, but some use the holiday as more of a backdrop for themes like unrequited or forbidden love, family dysfunction, crisis of faith, the ills of consumerism, and sexual desire/frustration.
"The Family Stone," (2005 ), written and directed by Thomas Bezucha | Starz
This is the first movie that made me realize that sexuality is a spectrum because if Amy (Rachel McAdams) was a real person, I'd be the one trying to make out with her in an ambulance 😉 It's probably sacrilege to say, but I think this is Sarah Jessica Parker's best role. Meredith is significantly more complex than Carrie Bradshaw. I love a messy, uptight bitch who doesn't know how to interact with children and has a drunken meltdown over how much she "love[s] the gays." Full disclosure: the only person I know IRL who likes this movie is my mom.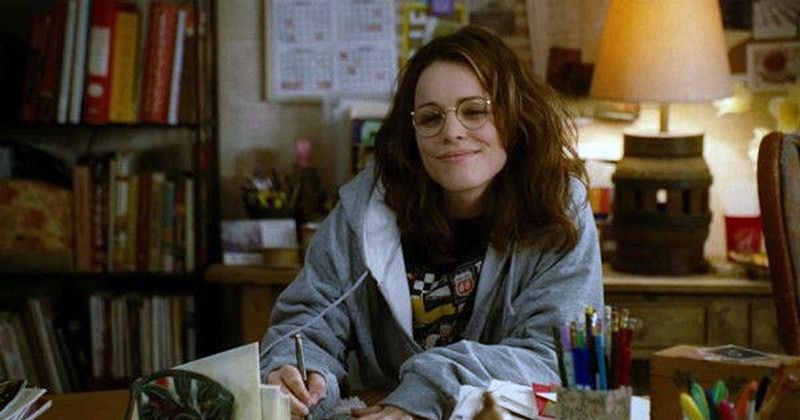 "The Year Without a Santa Claus" (1974), written by William Keenan, directed by Jules Bass and Arthur Rankin, Jr.
I looked forward to this one every year as a kid but have only revisited it once as an adult. The musical numbers are legit, I enjoy seeing Santa struggle with depression, and I'm still on the hunt for a sweater that rivals the Heat Miser's spangly signature number. It's my second favorite Rankin/Bass, right on the heels of the absolutely deranged "Here Comes Peter Cottontail" (1971). Also, this: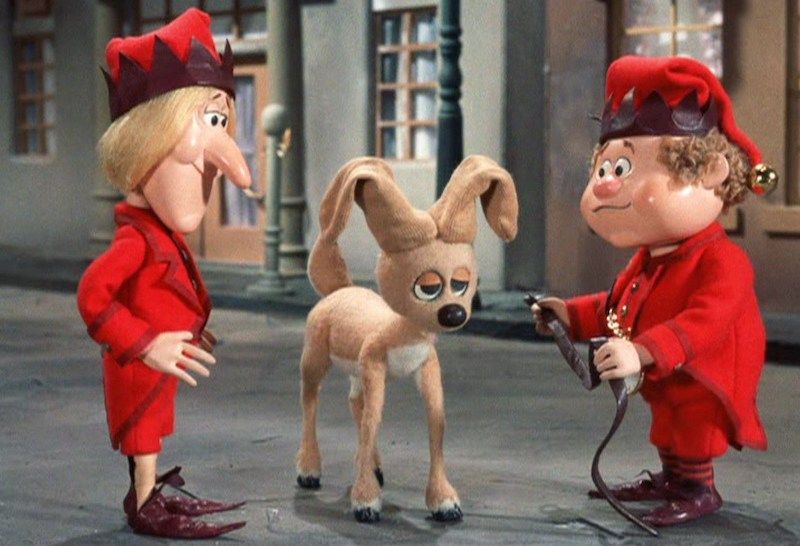 "Eyes Wide Shut" (1999), written and directed by Stanley Kubrick | Netflix
When I moved to NYC, I hoped Christmastime in the city would feel like a combination of "Eyes Wide Shut," "Home Alone 2," (1992), and "Moonstruck" (1987). Little did I know, Kubrick's final film was mostly shot on set at Pinewood Studio and in central London, not NYC. Either way, the vibes are immaculate and I want there to be more seasonal erotic thrillers that rail against consumerism and class divide. Some might argue that  Kubrick and "cozy" are at odds with one another, but I challenge you to find another movie with as many fucking Christmas trees. According to Nik Dobrinsky's extensive essay about the film, there's only one scene sans tree.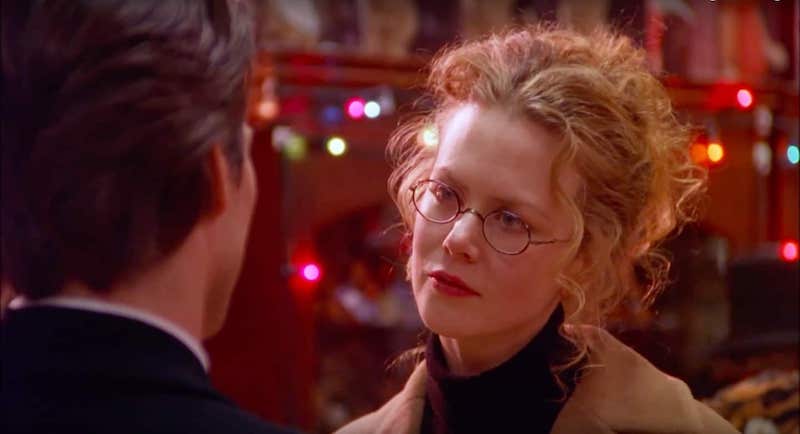 "Moonstruck" (1987), written by John Patrick Shanley and directed by Norman Jewison | Amazon Prime, Kanopy Paramount+
We technically don't see anyone celebrating Christmas, but the Met's tree is up, it's snowing, and the entire Castorini family is collectively losing their shit. Nothing screams "It's the holidays" louder than a bunch of insane people trying to coexist without killing each other. The interiors are all intensely cozy, replete with red wine and roaring fireplaces, whereas the exteriors are decked out in twinkle lights and lunar chill. I recommend watching this one in bed with a cat and a glass of champagne (don't forget the sugar cube) for maximum enjoyment.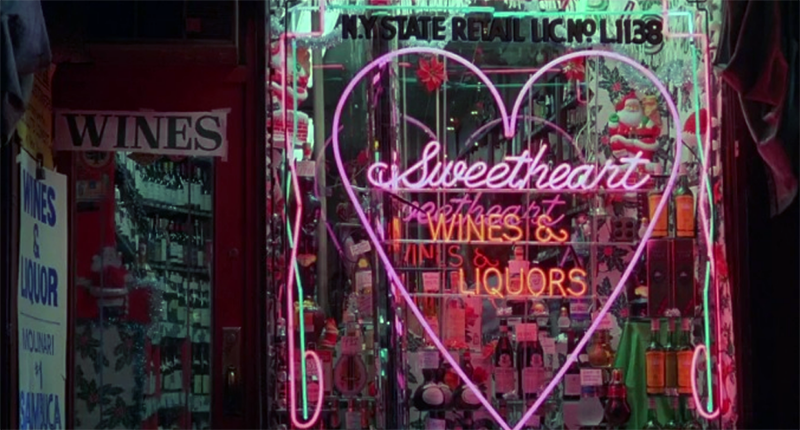 "Metropolitan" (1990), written and directed by Whit Stillman | HBO Max, Criterion Channel, Kanopy
This film, centered around a group of Manhattan socialites during debutante season, takes place during the days leading up to and after Christmas. Imagine a "Presenting Lorelai Gilmore" spinoff where Chris Eigeman plays a younger, smarmier version of Digger. Tom's (Edward Clements) ignorant Jane Austen insults make me laugh every time, as does Nick (Eigeman) screaming, "They're a composite! Like New York Magazine does!" Stillman is one of those directors people either love or hate, but I think any "Gilmore Girls" fan will find him absolutely delightful.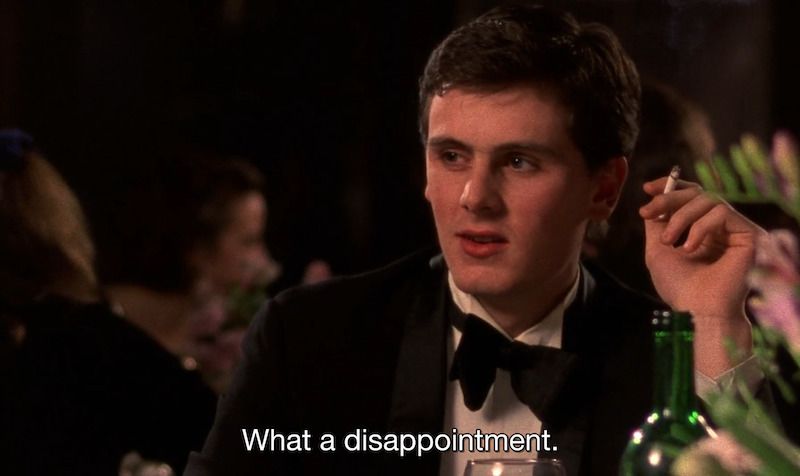 "Christmas in Connecticut" (1945) written by Lionel Houser and Adele Comandini, directed by Peter Godfrey | HBO Max
It's shocking to me that Nora Ephron never made one of her characters watch this movie. Julie Powell (Amy Adams) and Rachel Samstat (Meryl Streep) would have been obsessed. Barbara Stanwyck plays Elizabeth Lane, a single woman living alone in New York while masquerading as a wife/mother in her magazine column, "Diary of a Housewife." Hijinks ensue when a young sailor (Dennis Morgan) recovering in the hospital falls in love with her writing and finagles his way into spending Christmas on her fictitious Connecticut farm. Fur boleros are worn, pancakes are flipped, and every baby, regardless of gender, is referred to as "it." My favorite Stanwyck Christmas movie is actually "Remember the Night" (1940), but that one isn't streaming anywhere and doesn't feature an enviable (fake) stone farmhouse.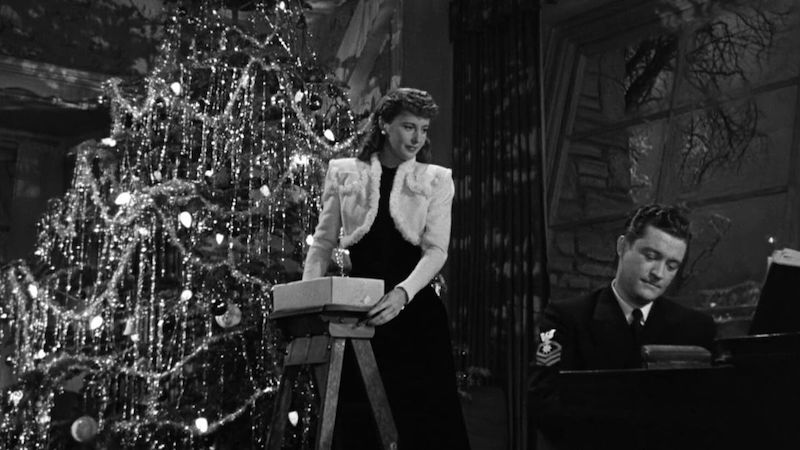 "Holiday Affair" (1949), written by Isobel Lennart and directed by Don Hartman
As with many movies from this era, the messaging is a littttttttle sus if you think about it critically, but top-notch acting elevates it above Hallmark status. My fake boyfriend Robert Mitchum made "Holiday Affair" in an attempt to soften his image after a marijuana arrest, which I will never not find hilarious. His character Steve is charming, but not super sensitive in his treatment of Connie (Janet Leigh), a war widow/mother who is determined to keep the memory of her dead husband alive. Steve is appealing if you're a twenty-two year-old in a bar who just wants to get dicked down for the night by someone with a sexy chin dimple; Carl (Wendell Corey) is the guy you want once your prefrontal cortex has fully developed. Regardless, it's a fun, mindless romp that is surprisingly not ruined by Timmy (Gordon Gebert), a child I would have given up for adoption without a second thought.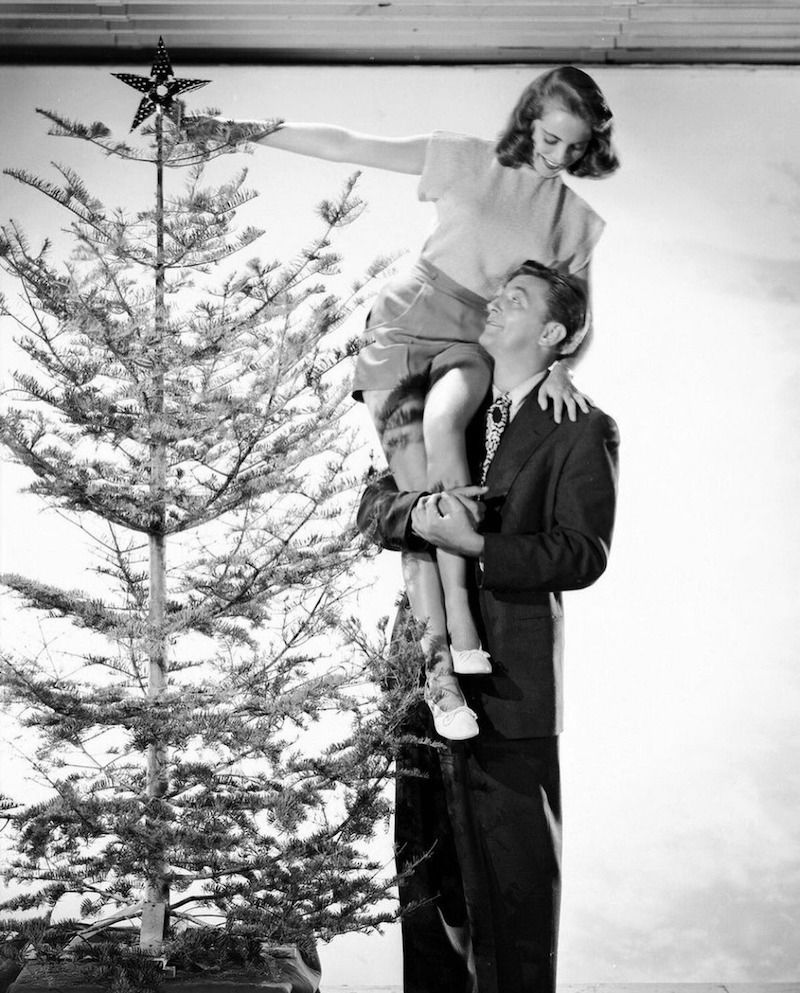 "Tokyo Godfathers" (2003), written by Keiko Nobumoto and Satoshi Kon, directed by Kon
I want to see more movies where people spend time with their chosen families over the holidays instead of blood relatives that drive them mad. In "Tokyo Godfathers," three homeless people band together to find the parents of an abandoned baby they discover in a dumpster on Christmas Eve. If this sounds brutal, that's because it is, but Kon's third feature film is also deeply life-affirming. Although I greatly prefer his surrealist films like "Perfect Blue" (1997) and "Paprika" (2006), I still appreciate this straightforward, albeit weirdo, retelling of John Ford's "3 Godfathers" (1948). The characters are well-developed, the animation is beautiful, and despite some darker themes, I find it comforting and worthy of a yearly December rewatch.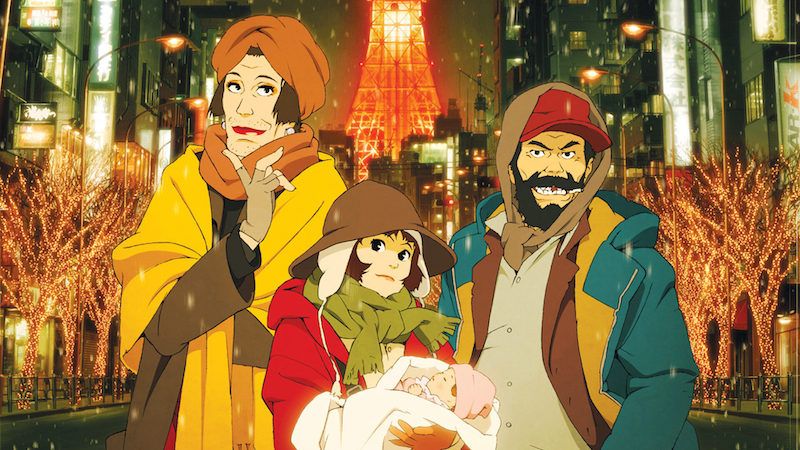 "Desk Set" (1957), written by Phoebe and Henry Ephron, directed by Walter Lang
This Spencer Tracy/Katharine Hepburn joint features one of the best holiday work parties ever committed to film. While watching, I couldn't stop thinking about how champagne sticky the office floors were going to be the next day. I hope the reference department tipped the janitor as handsomely as the mail boy. I wish it wasn't so rare to see a movie about an older lady who never married or had kids, is fulfilled in her career, and has solid female friendships, but this is one of the few that comes to mind (especially for the '50s). Of course, Hepburn ends up with Tracy in the end, but he's far preferable to her unappreciative corporate-ladder-climbing former boyfriend (Gig Young). I must also give a shoutout to Charles LeMaire, the costume designer on this film. I'm obsessed with Hepburn's silver holiday party dress and the long brown coat (with matching gloves) she wears for lunch on the roof. Prepare yourself for major wardrobe envy.
"Comfort and Joy" (1984), written and directed by Bill Forsyth | YouTube
Bill Forsyth is one of those directors I've been meaning to dive into for a while. I loved his adaptation of Marilynne Robinson's "Housekeeping" (1987) but hadn't seen any of his other films until this month, when I finally made time for "Comfort and Joy." There are few premises I love more than "depressed/anxious person stumbles upon a weird situation they can't escape." Bill Paterson, who should have had more leading roles in his career, plays Bird, a morning radio DJ in the throes of heartache after his kleptomaniac girlfriend (Eleanor David) unceremoniously dumps him. I almost don't want to tell you where the plot goes next, but I'll just say that it's a more wholesome riff on the real life Glasgow ice cream wars. Anyone who misses the freewheeling, eccentric messiness of '80s comedies will enjoy this film.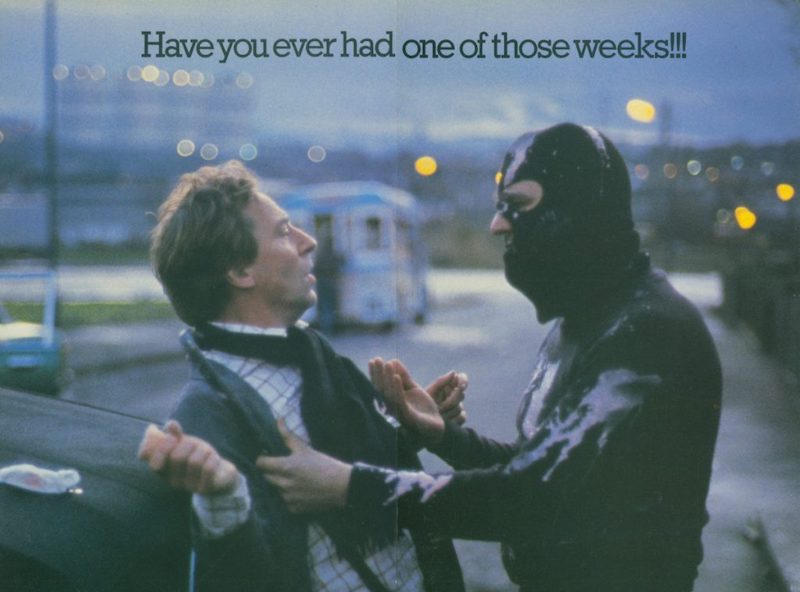 "The Store" (1983), directed by Frederick Wiseman | Kanopy
I find this cinéma vérité documentary about a Dallas Neiman Marcus store weirdly relaxing. It reminds me of the years I spent at Macy's, convincing vulnerable old people to open credit cards so that I could buy Ray Bans on commission. At this time in my life, I still had hope that one day, I would find better, more fulfilling work. Now that I'm in my thirties, I'm old enough to understand that most jobs involve some amount of moral compromise in exchange for money. I may not be forced to perform smiling exercises before meeting with clients, but I must refrain from rolling my eyes when higher ups refer to everyone at the company as "family." Anyway, this movie is two hours of voyeuristic bliss that becomes more sinister with each repetition. Rich people shop, the lower economic classes serve them, and Neiman Marcus makes money. Capitalism, hooray! I fucking love Frederick Wiseman.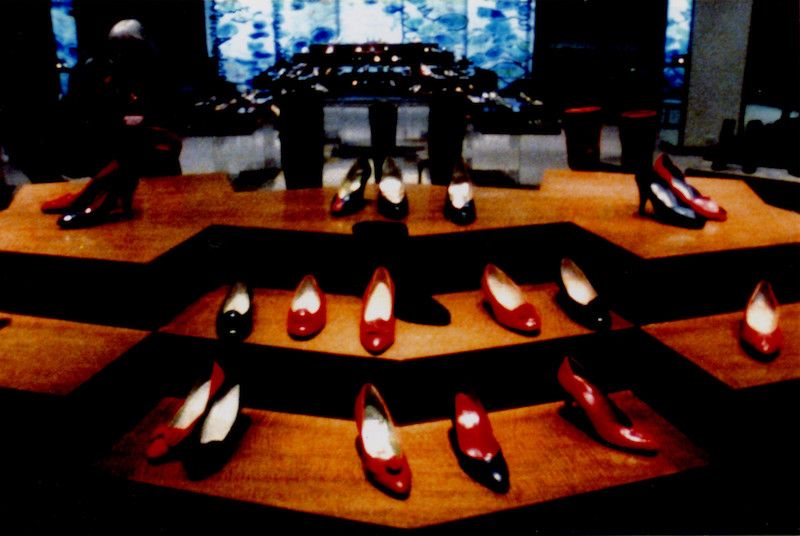 "The Long Kiss Goodnight" (1996), written by Shane Black and directed by Renny Harlin | Showtime
This is one of those movies that I wouldn't normally watch but got sucked into because of fashion (e.g., Tsui Hark's "Double Team"). The premise is absurd: Geena Davis plays a single mom living in Honesdale, PA who can't remember anything about the first thirty years of her life. After a car accident, her memory starts to come back and with the help of a private investigator (Samuel L. Jackson), she begins to remember her past life as a CIA assassin. The rest of the plot is standard action movie insanity, but I enjoyed watching Davis as a proto-Sydney Bristow with furry Kangol-clad Jackson and his bevy of incredible knitwear as her reliable number two. The misogyny and racial dynamics are as problematic as you might expect and the World Trade Center plot didn't age well, but the dope turtlenecks and saucy bon mots make it a worthwhile endeavor.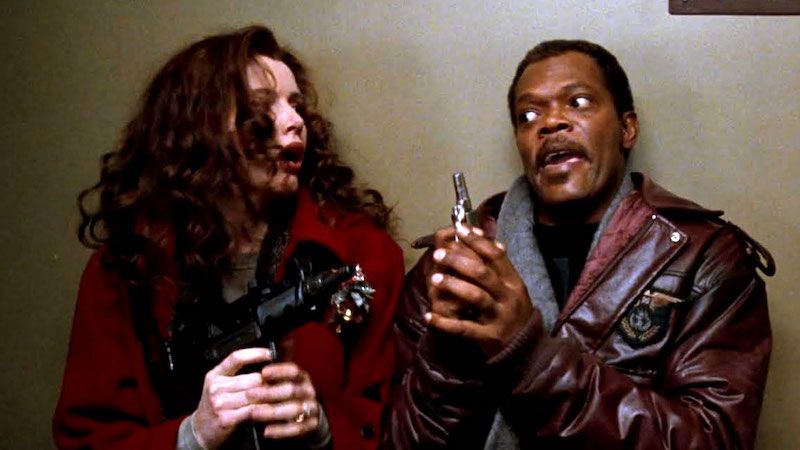 "While You Were Sleeping" (1995), written by Daniel G. Sullivan and Fredric Lebow, directed by Jon Turteltaub | YouTube, Disney+
I recently rewatched this movie and was shocked by how well it held up. Yes, Lucy (Sandra Bullock) is a bit deranged for pretending Peter (Peter Gallagher), a man she's barely even spoken to who is now in a coma, is her fiancé, but the movie does a good job of explaining how she gets trapped in this lie. Her parents are dead, her cat Mel is indifferent, and her makeshift father figure/boss makes her work on Christmas because she doesn't have a family. Lucy is lonely and feels stuck in a life born from circumstance. Romantic love is secondary to her desire for acceptance and community. She's not some "crazy" woman desperate to trap a man, but a person longing for connection during a holiday that often feels bleak. If this description doesn't entice you, consider: Bill Pullman and Sandra Bullock at peak hotness, amazing sweaters, several Dunkin' Donuts product placements, and not one but two excellent cats.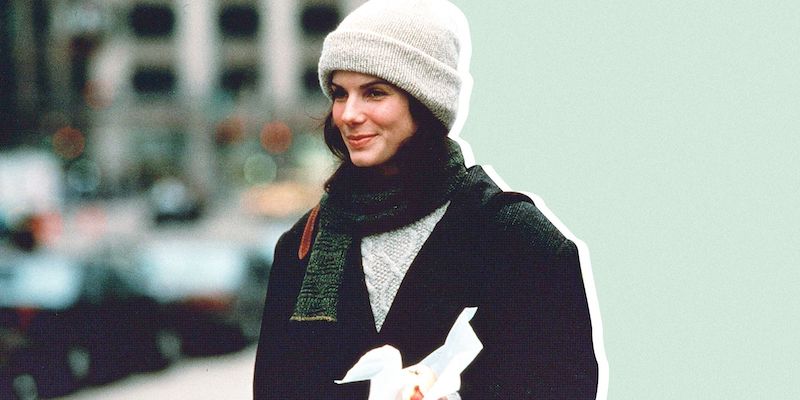 "Bachelor Mother" (1939), written by Norman Krasna and directed by Garson Kanin
From what I can tell, "Bachelor Mother" pioneered the "single woman inherits a baby she now must care for" plot that appears in movies like "Baby Boom" (1987) and "Raising Helen" (2004). When Polly (Ginger Rogers) helps a baby left on the steps of an orphanage, everyone assumes she's the mother and goes to great lengths to prevent abandonment. Her employer, Mr. Merlin (David Niven), even extends her seasonal employment and gives her a raise to ease financial concerns (contingent on her keeping the baby, of course). Eventually, people start to believe that he's the father and the shit storm he dumped onto Polly is now his problem, too. It could all easily be offensive due to outdated gender politics but comes off as quite progressive for the time. The dance contest always reminds me of "They Shoot Gilmores, Don't They?" and the New Year's Eve party at the end is the stuff of bourgeois dreams.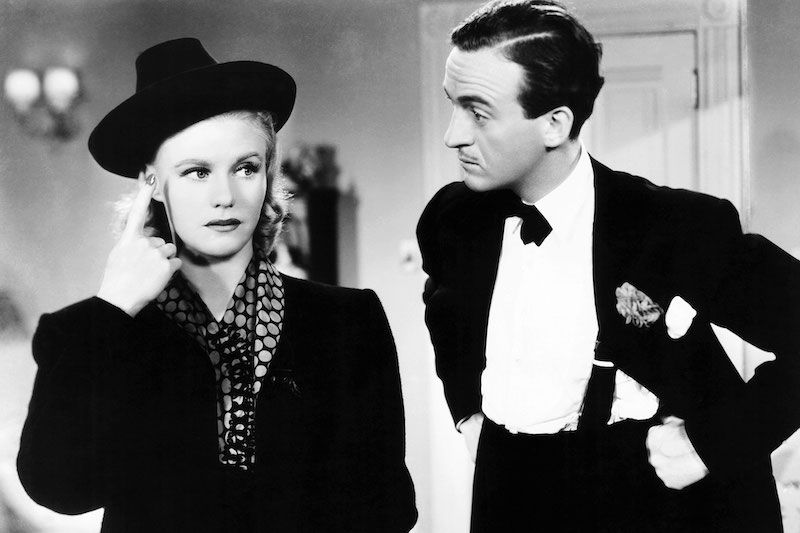 "After the Thin Man" (1936), written by Frances Goodrich and Albert Hackett (with a story by Dashiell Hammett), directed by W.S. Van Dyke | HBO Max
I'm not sure how familiar modern audiences are with "The Thin Man" series, but it's one of my absolute favorites. Tonally, Rian Johnson's "Knives Out" films give me major Nick (William Powell) and Nora (Myrna Loy) vibes, which is one of the reasons why I love them so much. (Stream "Glass Onion" on Netflix starting December 23.) I recommended the first "Thin Man" movie in my last holiday distractions guide, so it's only fitting that I now urge you to watch the second installment. There are six films in total that are all worthwhile but I must be honest: things start to fall apart after Nick and Nora have a baby in the third movie. This is the last hurrah before Nick starts exclusively referring to Nora as "mommy" and the comedy becomes secondary to plot. The film takes place on New Year's Eve after the couple returns from vacation and are promptly thrown into yet another murder mystery. If you're in a bad mood and need a hit of serotonin, look no further than cinema's most charming alcoholics.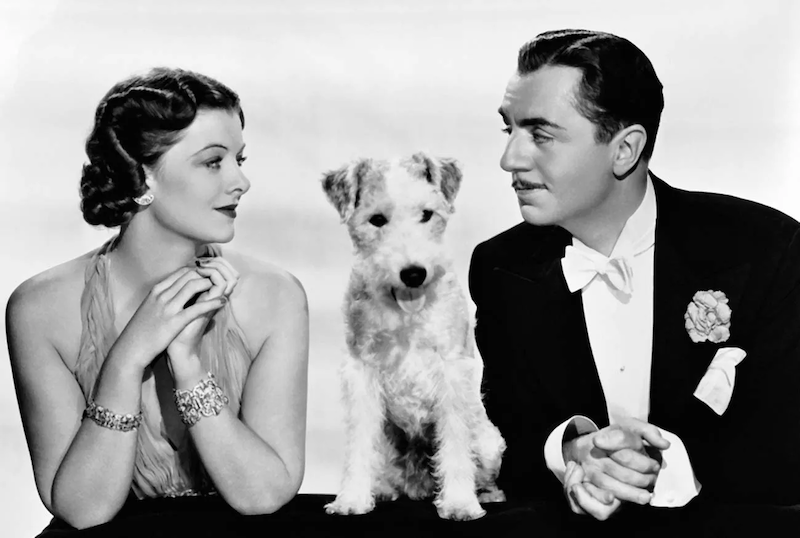 "Waiting to Exhale" (1995), written by Terry McMillan and Ronald Bass, directed by Forest Whitaker
Calling this a holiday movie is a stretch, but it does begin and end on New Year's Eve. Sadly, there's not much differentiation between the seasons since it takes place in Phoenix, Arizona, but we do get a festive party scene in the first act. The film revolves around four friends who have been unlucky in love and long for men who aren't walking dumpster fires. Revisiting the film as an adult, I found the internalized misogyny, homophobia, and runtime a bit taxing, but the cast and soundtrack mostly make up for those transgressions. Some stray observations:
No one has ever looked as cool as Angela Bassett sitting alone at a hotel bar, smoking a cigarette and drinking a Scotch and soda
Tarik's (Donald Faison) decision to rock a dELiA*s-esque sky-printed vest to a NYE party tells you everything you need to know about his character.
Robin (Lela Rochon) describes her ex as "A lyin', sneaky, whorish Pisces." She later tells a different ex, "Take your drunk-ass, leather-wearing-in-the-summertime, need-a-shave, stinky-ass home." Queen of insults.
The soundtrack is truly excellent. Everyone gets drunk at Gloria's (Loretta Devine) birthday party and dances to TLC's "Creep." It's more glorious than you can imagine.
RIP Whitney Houston and Gregory Hines.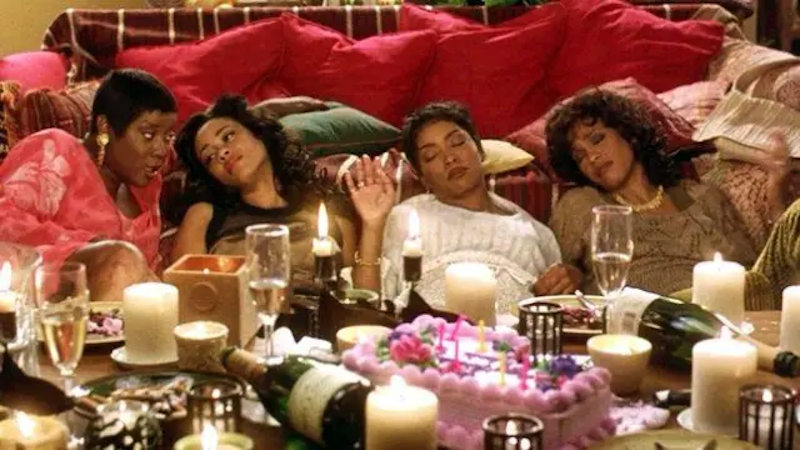 "The Umbrellas of Cherbourg" (1964), written and directed by Jacques Demy | Criterion Channel, HBO Max, Kanopy
Jacques Demy takes a simple plot and flawlessly executes it as a genre-defying sung-through musical. Watching this movie is like being stuck in a beautiful dream where shadows don't exist and everything looks beautiful even when it's desperately sad. "Umbrellas" is a classic story of young lovers torn apart by bad luck. Geneviève (Catherine Deneuve) and Guy (Nino Castelnuovo) intend to marry, but postpone their plans when he's drafted into the Algerian War. Geneviève realizes she's pregnant soon after he departs and becomes increasingly anxious about the future. When a Parisian jeweler proposes marriage, she accepts. It's all very melancholy but forgoes maudlin manipulations. Much of the sadness comes from the restraint Geneviève and Guy demonstrate in the final scene, framed beautifully against Christmas decorations and gently falling snow. They now have lives that no longer include each other. There's nothing to be done, but a dull ache remains.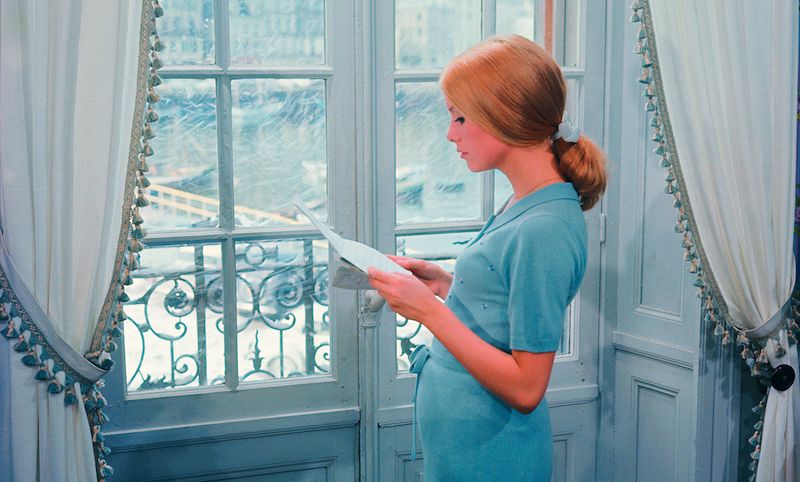 "Arthur Christmas" (2011), written by Peter Baynham and Sarah Smith, directed by Smith | HBO Max, Hulu, Amazon Prime
I really did not expect "Arthur Christmas" to be a story about inter-generational conflict within a family of narcissists, but that's what Sarah Smith gave us! Arthur (James McAvoy) is the pure-hearted scapegoat youngest son of Santa (Jim Broadbent). He loves Christmas/working for the family business but has talent in the form of emotional intelligence, which no one can appreciate. Steve (Hugh Laurie), the oldest golden child, is an operations wizard who is poised to take over as Santa if his father will ever fucking retire. (His father won't retire because he has no identity outside of his job, which is also relatable!) Grandsanta (Bill Nighy) is the boomer elder who is basically just there to make sure everyone knows how much harder and more impressive it all was back in his day. Mrs. Claus (Imelda Staunton) is constantly belittled and underestimated even though she knows way more than everyone else, just like women in the real world. By the end, family tensions resolve and everyone is happy, but I appreciate that this movie brought in realistic conflict amidst the requisite cheer.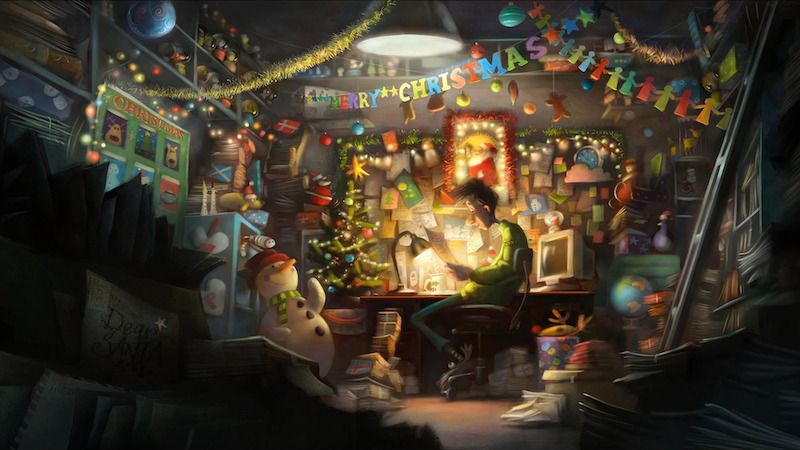 "Stepmom" (1998), written by Gigi Levangie, Jessie Nelson, Steven Rogers, Karen Leigh Hopkins, and Ron Bass, directed by Chris Columbus
If you grew up in the '90s, you probably loved anything with Julia Roberts. Between "Sleeping with the Enemy" (1991) and "My Best Friend's Wedding" (1997), that bitch had me in a chokehold that wouldn't let up until 2007 when I graduated high school and became too "cool" for mainstream movies. (I hadn't yet discovered the magic of Susan Sarandon.) "Stepmom" is not the most fun selection in Roberts's oeuvre, but it gives me the most aesthetic pleasure. The house and color palette reign supreme; everyone's skin looks luminous. I distinctly remember looking up "snow blowing" on Urban Dictionary using a school computer circa 2001; the results shocked me to my core. It wasn't until I revisited the film as an adult that I realized how terrifying it is. Some might even call it a Christmas horror film. Pair this one with "Bachelor Mother" and you've got yourself a nice double feature.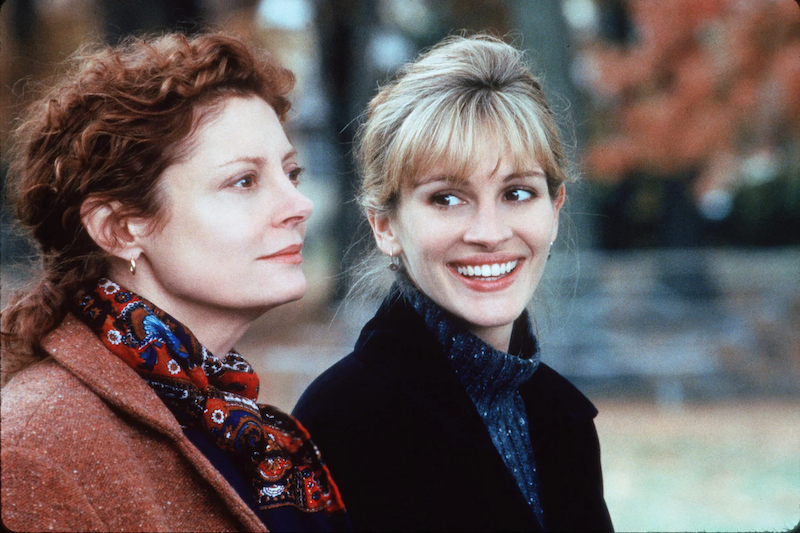 "The Hudsucker Proxy" (1994) written by Ethan Coen, Joel Coen, and Sam Raimi, directed by Joel Coen | Kanopy
If Paris Geller came of age in the 1950s, she would probably be akin to Amy Archer (Jennifer Jason Leigh), a Pulitzer Prize-winning reporter who writes amazing headlines like, "Imbecile Heads Hudsucker: Not a Brain in His Head." When the president of Hudsucker Industries (some kind of business-y business doing ... business?) leaps to his death and Norville Barnes (Tim Robbins), an unqualified rando from the mailroom, is promoted to his position, Archer is immediately suspicious. She ingratiates herself with that Muncie, Indiana moron and attempts to break the story, only it doesn't pan out as anyone anticipated. It's an updated take on Frank Capra's "It's a Wonderful Life" (1946), but with a hero more like Preston Sturges's Woodrow Lafayette Pershing Truesmith (Eddie Bracken). Oh, and did I mention Paul Newman is in this? The film takes place over Christmas and New Year's in fake New York City, so there's some solid snow and twinkly light action to be had.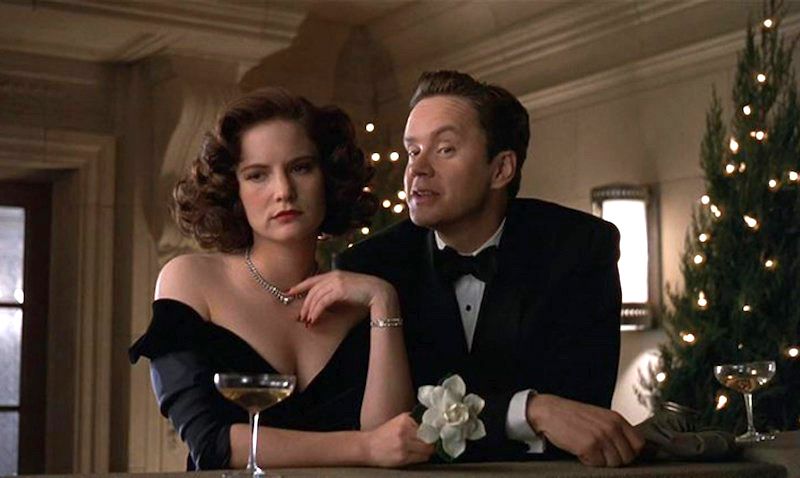 ---
I hope you spend the days leading up to Christmas watching movies in the bathtub through a haze of bong smoke (or doing whatever gives you pleasure). To those headed back to traumatic hometowns for days of dysfunction, I salute you. I recommend trying the Lorelai Gilmore method of finding humor in familial disapproval. I've never found it particularly effective, so don't forget your screaming pillow 🍸