Vibe:
"You've Got Mail" embodies the New York City of my fantasies, a place that never quite existed for me in real life but probably does for certain (wealthy) people. Everyone lives in beautiful, spacious apartments, eats at magical, cozy restaurants, and greets their neighbors by name. The Upper West Side feels more like Stars Hollow than a neighborhood in the most populated US city.
In real life, the potential for meaningful connection is what makes the city so wonderful. Even though it's huge and oftentimes impersonal, there are certain glimpses of magic that keep people coming back for more. Sometimes the barista at Culture rememebers your order and gives you a coffee on the house because she likes your Sub Pop pin. After a long day at work, a random stranger lets you pet her dog, a Chinese Crested named Richard, for 5 minutes because you look sad. You meet a cool stranger on the Subway because he notices your Kurt Vonnegut tattoo and you exchange pleasantries about Helen Oyeyemi.
"You've Got Mail" is NYC at its most charmingly picturesque and watching it reminds me of all the things I love about the city.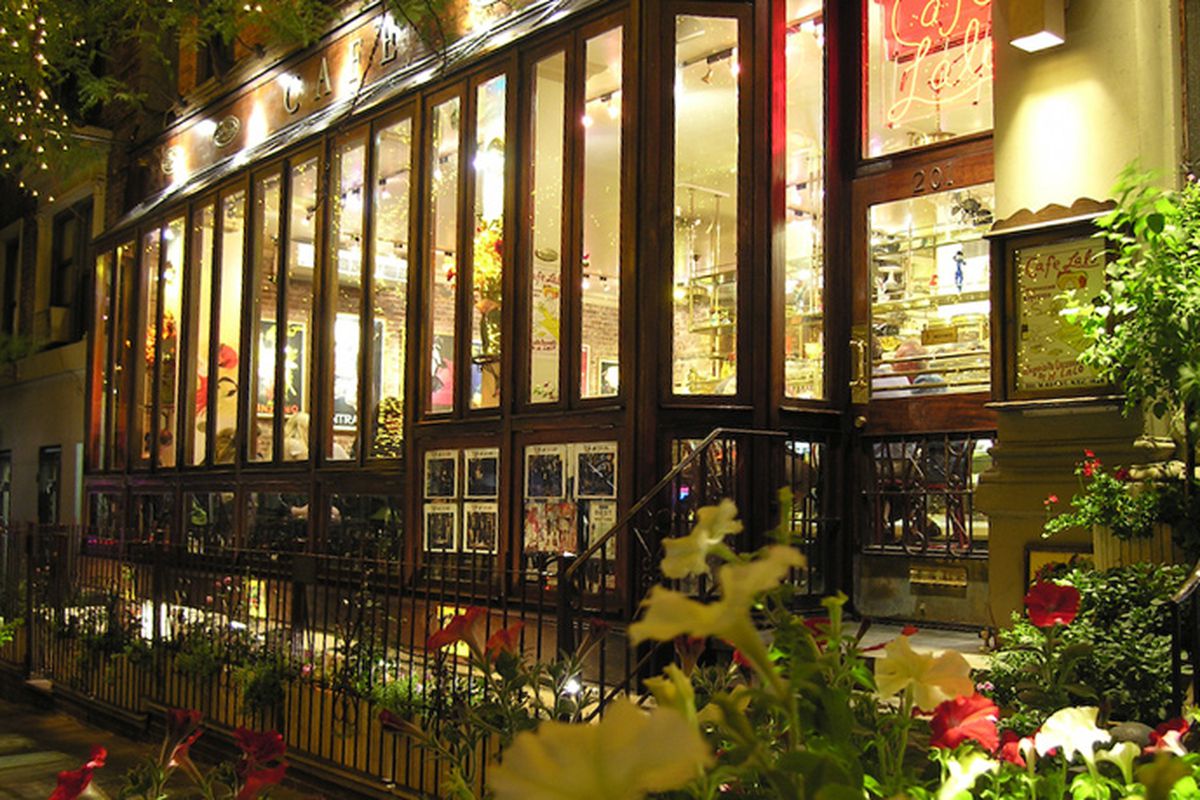 Cafe Lalo, the spot where Joe and Kathleen first meet for coffee, is cute as fuck, but unremarkable from a dessert standpoint, tbh.
Best time to watch:
When you're home for the holidays and need something to watch with your mom. Moms love Tom Hanks! At least, my mom does. Other recommendations: "Home for the Holidays" by Jodie Foster, "Little Women" by Gillian Armstrong, and "Carol" by Todd Haynes.
When you want something that will put you in the holiday spirit, but don't have the patience for a poorly constructed shitstorm like "The Holiday." Look, I like Nancy Meyers, but "The Holiday" is honestly one of her worst movies. Elizabeth Logan describes it as, "a good movie ruined by being cut with a mediocre movie, like a baggie of grade-A weed someone dumped a bunch of parsley into and then charged me $15 to smoke." I'm into the Kate Winslet storyline, but Cameron Diaz's "feel sorry for me because my parents are divorced and I can't cry" bullshit nearly set me over the edge.
Worst time to watch:
Don't watch it with youths unless you're prepared to answer 5,000 questions about outdated technology. "What's AOL?" "What's dial-up Internet?" "Why are these people excited about receiving an email?"
Also avoid it if you're still deeply mourning the demise of bookstores, both big and small. As a kid in middle-of-nowhere Pennsylvania, I fucking lovvvvvvved Borders. Whenever I worked at Auntie Anne's Pretzels in high school, I used to go to Borders on my lunch break and read in the huge leather chairs in the middle of the store. The day it shuttered, I was legitimately heartbroken. During my five years in Brooklyn, I saw many beloved independent bookstores disappear. RIP BookCourt, St. Mark's Books, The Community Bookstore, and Rizzolli Bookstore (+ Logos Books & Records in Santa Cruz, CA).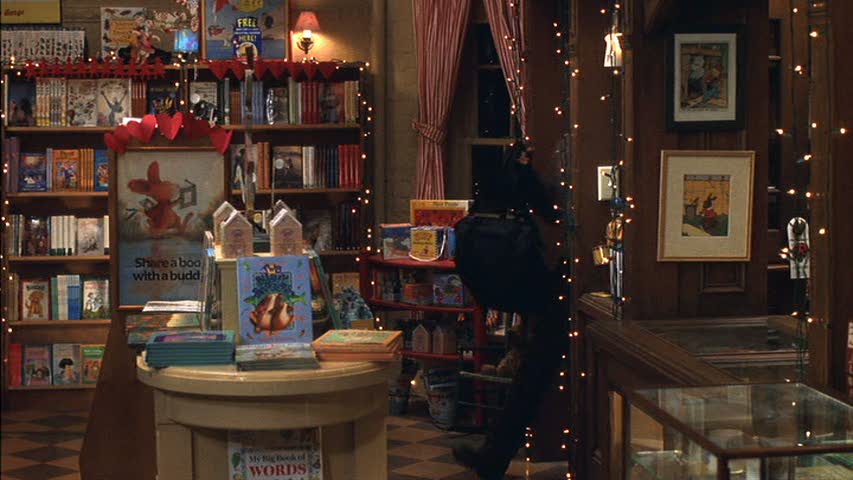 The Shop Around the Corner is a twinkle light adorned, book lover's paradise.
As sad it is to see quality places close (and physical Amazon Books open), I still feel hopeful. Some of my favorite bookstores are thriving and I think there are enough adamantly analog people out there to continue supporting them. If you're looking for indie bookstore recommendations, here are a few:
Literati Bookstore in Ann Arbor, MI
John K. King Used & Rare Books in Detroit, MI
Caliban Books in Pittsburgh, PA
Midtown Scholar Bookstore in Harrisburg, PA
Powell's Books in Portland, OR
Strand Book Store in New York, NY
Greenlight Bookstore in Brooklyn, NY
Bruised Apple Books in Peekskill, NY
City Lights Bookstore in San Francisco, CA
Politics and Prose Bookstore in Washington, D.C.
I've heard great things about author Emma Straub's new venture, Books Are Magic, but haven't had a chance to visit yet. If you're looking for a great children's bookstore, you can't go wrong with Books of Wonder, the model bookstore for The Shop Around the Corner in Manhattan's Chelsea neighborhood. I used to visit Books of Wonder and look at the rare books when I worked at St. Martin's Press in the Flatiron Building. If you know me, you're probably aware that I'm constantly on the hunt for "Dorrie the Little Witch" books. I grew up reading them at the Tarentum Library and have an unparalleled fondness for Dorrie and Gink's hijinks.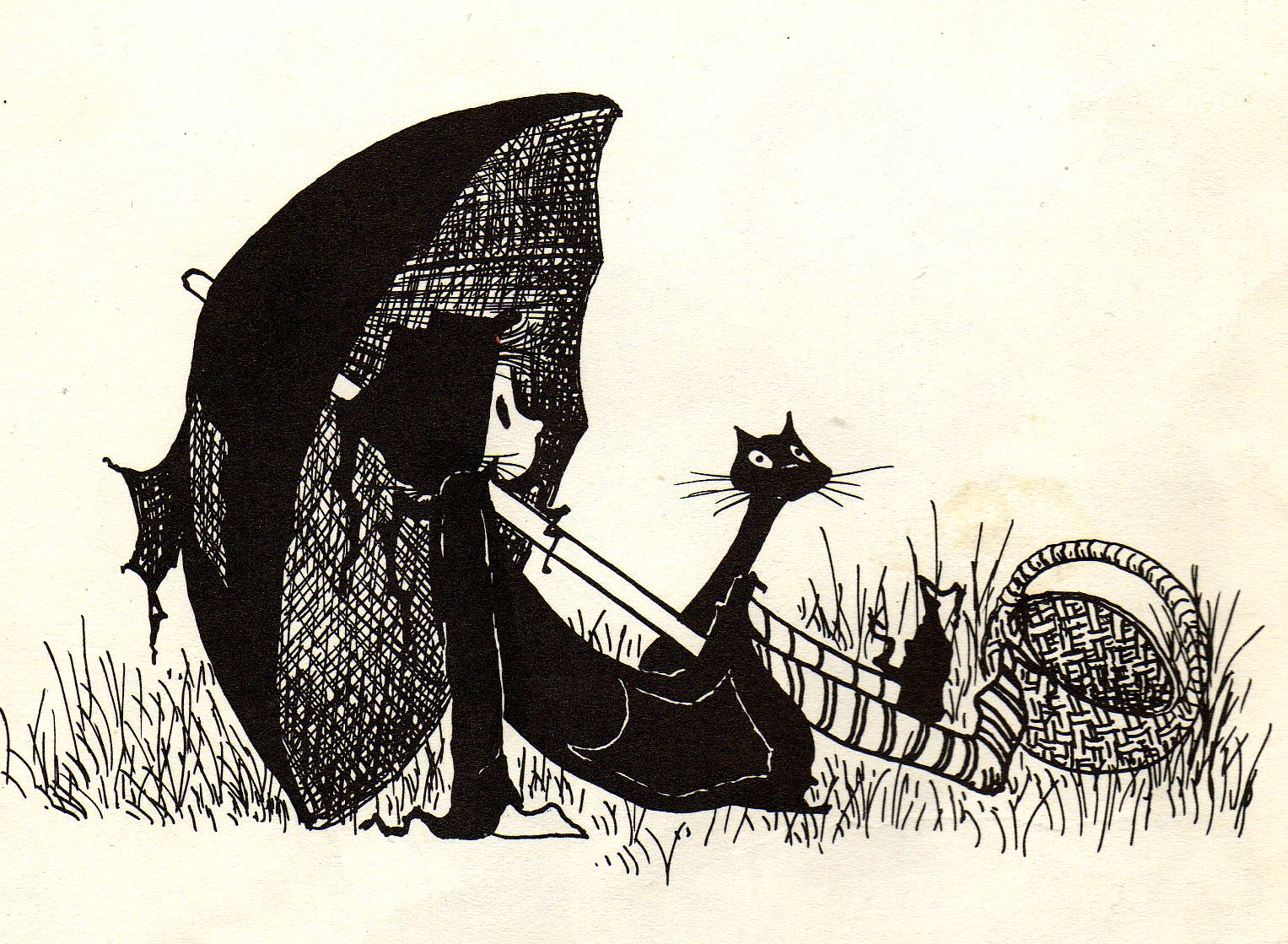 "This is Dorrie. She is witch. A little witch. Her hat is always on crooked and her stockings never match."
Where to watch:
Rent it for $2.99 on all the standard platforms (or buy it for $5.99 and "accidentally" charge it to your boyfriend's Amazon account).
Quick summary:
Kathleen Kelly (Meg Ryan) and Joe Fox (Tom Hanks) meet online in an "over-30s" chatroom and strike up an anonymous, online friendship/romance. What they don't realize is that they're business rivals and will soon meet, and hate, each other in real life. Kathleen runs The Shop Around the Corner, a children's bookstore that she inherited from her mother. Joe works for Fox Books, a large chain of bookstores owned by his family. When a Fox Books opens across the street from Kathleen's shop and threatens to put her out of business, their paths cross in irritating ways.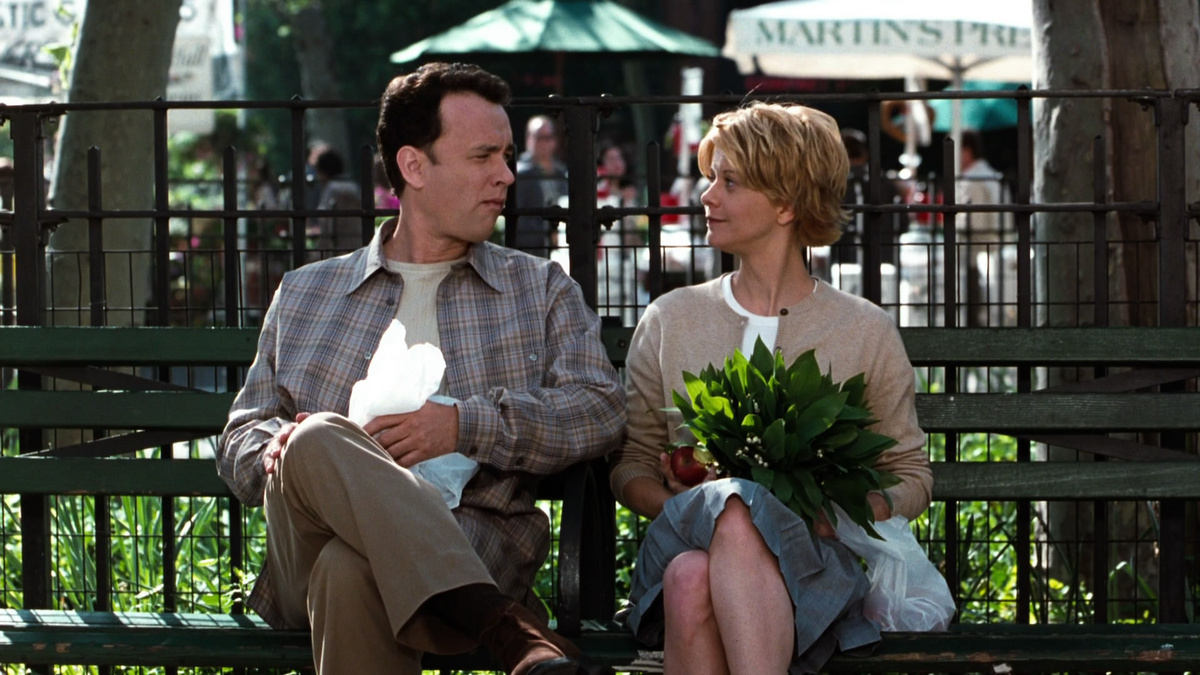 Thoughts:
This movie brought me back to the days of ICQ and AIM. I remember logging on to my family computer and spending hours painstakingly perfecting my profile - quotes from "The O.C." and Death Cab for Cutie lyrics, natch. My first screen name was QueenofMean383 - fitting then, fitting now.
In "You've Got Mail," Kathleen Kelly, aka ShopGirl, and Joe Fox, aka NY152, have a pretty solid online rapport: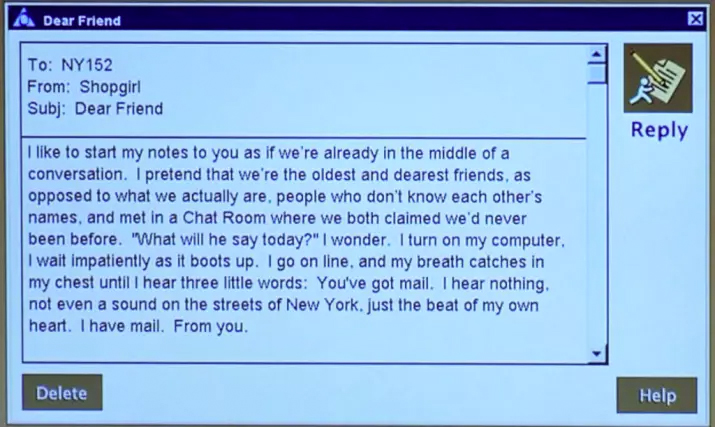 Considering the time and place, it makes total sense to me that two people in NYC, both stuck in boring relationships, would find intrigue and comfort in online exchanges. In the early days of the Internet, there was certainly something romantic (and not yet creepy) about anonymous digital correspondence.
As a kid who dreamed of having a penpal, the Internet opened so many new doors for me. I could have virtual penpals! (And actually, my first virtual penpal, someone I met on MYSPACE, ended up becoming a legitimate friend. We've stayed in touch for the past 15+ years and see each other IRL somewhat regularly. He hasn't murdered me yet, so 🤷🏻‍♀️.)
When Joe and Kathleen finally meet in the real world but haven't yet uncovered their shared online identities, it's clear they have real chemistry. Joe sees how much Kathleen cares about children's literature and her store and feels awful to be part of an organization that might take that away from her. He feels so awful, in fact, that he hides his true identity from her and spends $73 at her store.
During the first hour of this movie, I'm invested in Joe and Kathleen's budding online romance and increasing real life hatred for each other. It's a classic romcom "opposites attract" plotline that is unremarkable, but smartly executed with excellent actors. As soon as Joe realizes who Kathleen is and waits forever to tell her, my interest drops off considerably. I can't suspend my disbelief and pretend either relationship (online or IRL) is cute at this point. Joe has plunged everything into creepy territory and I feel anger toward the Ephrons now. Do they think this is acceptable?
Joe uses his online knowledge of Kathleen to manipulate her into real life frienship. As she grows to trust him and enjoy his company, he begins to convince her that her online relationship with NY152 is prolematic. Maybe NY152 is fat, ugly, or married. There's probably a reason why he didn't show up to meet Kathleen at Cafe Lalo. After planting these thoughts in her head over time and helping her detach from NY152 and attach to him, Joe decides to reveal the truth to her at the 91st Street Garden.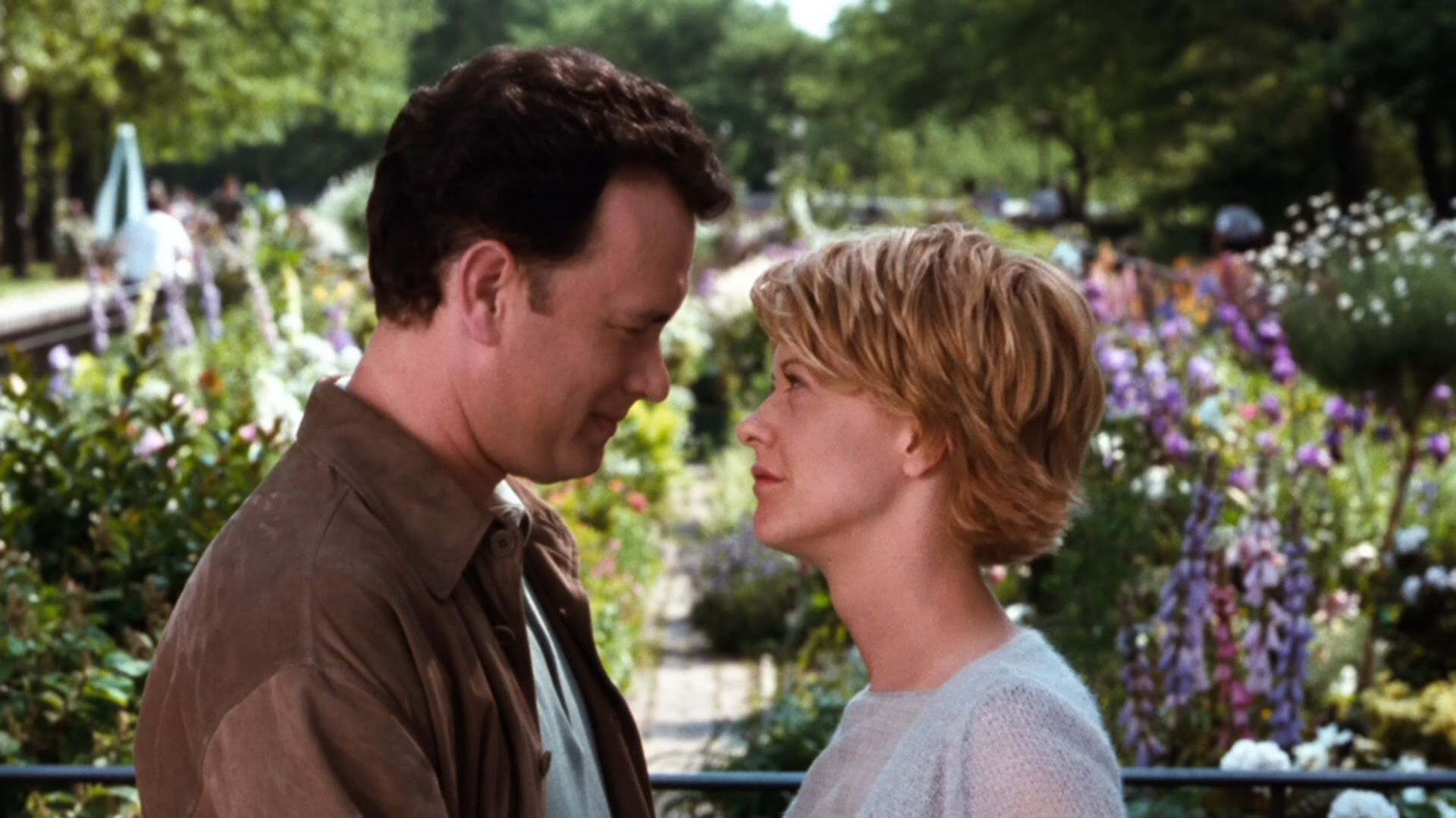 When Kathleen shows up and realizes that Joe is NY152, she isn't mad, she's HAPPY. She tells him, "I wanted it to be you." Um, what?! Kathleen should be fucking pissed that this dude spent months manipulating and deceiving her, but she's pretty chill about it. To her credit, girlfriend has had a traumatic year. The store that her dead mother passed down to her has gone out of business, she's unemployed (although writing a book), and recently ended a relationship. She's in a vulnerable state, which actually makes Joe seem like even more of a creep for swooping in and "romancing" her.
Tom Hanks, Meg Ryan, and the Ephrons are so good at their jobs that I almost let the creepiness slide. And after all, there have been many times that I thoroughly researched someone online before going out on a Tinder date with them. It's definitely weird to know intimate details about someone that haven't been communicated firsthand. No matter how hard I try to justify it, though, I can't really find an acceptable, modern day equivalent for Joe Fox's fuckery. No matter how you slice it, his actions are twisted and place "You've Got Mail" firmly in the horribly problematic RomCom canon.
Stray observations:
I love it when Dave Chappelle pops up in random 90s movies. I always forget that he's in "Robin Hood: Men in Tights." Sara Ramirez also makes an appearance (her first ever!) as a Zabar's cashier named Rose.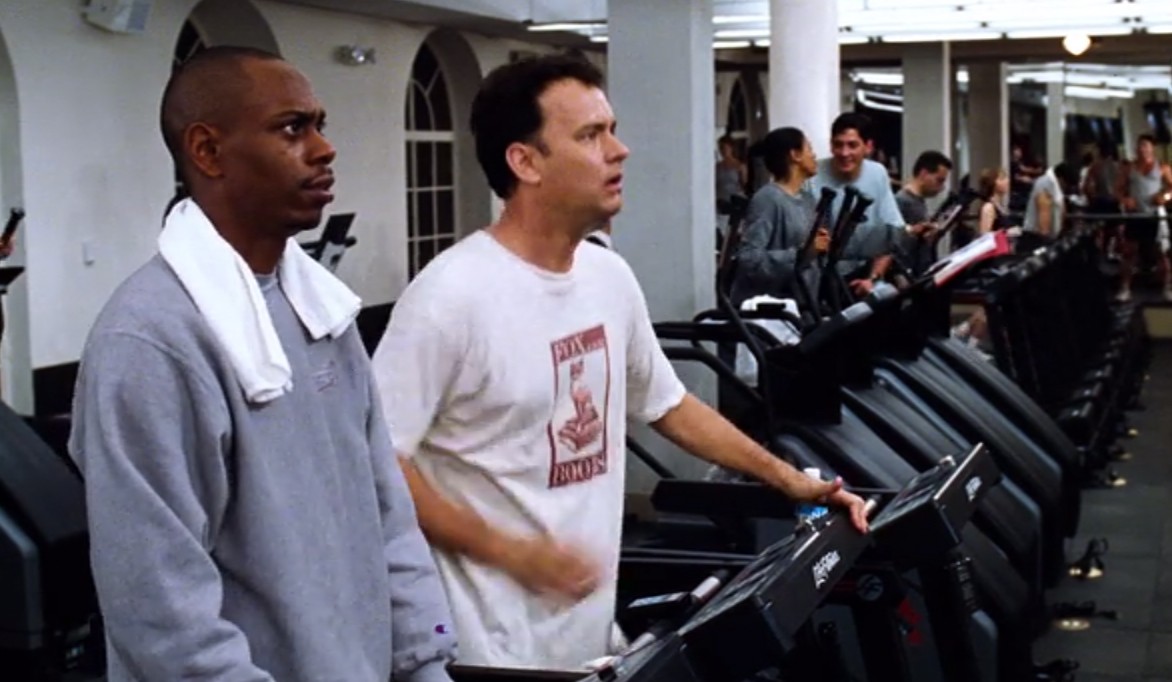 I agree with Kathleen: there's nothing better than the smell of Scotch tape. It's even better than freshly sharpened pencils.
I'm a bit of a Luddite, but even I find Frank slightly obnoxious. "You think that machine is your friend, but it's not." Okay, grandpa ... take a chill pill.
Christina (Heather Burns) is a style icon and I want to recreate all of her outfits, especially this one: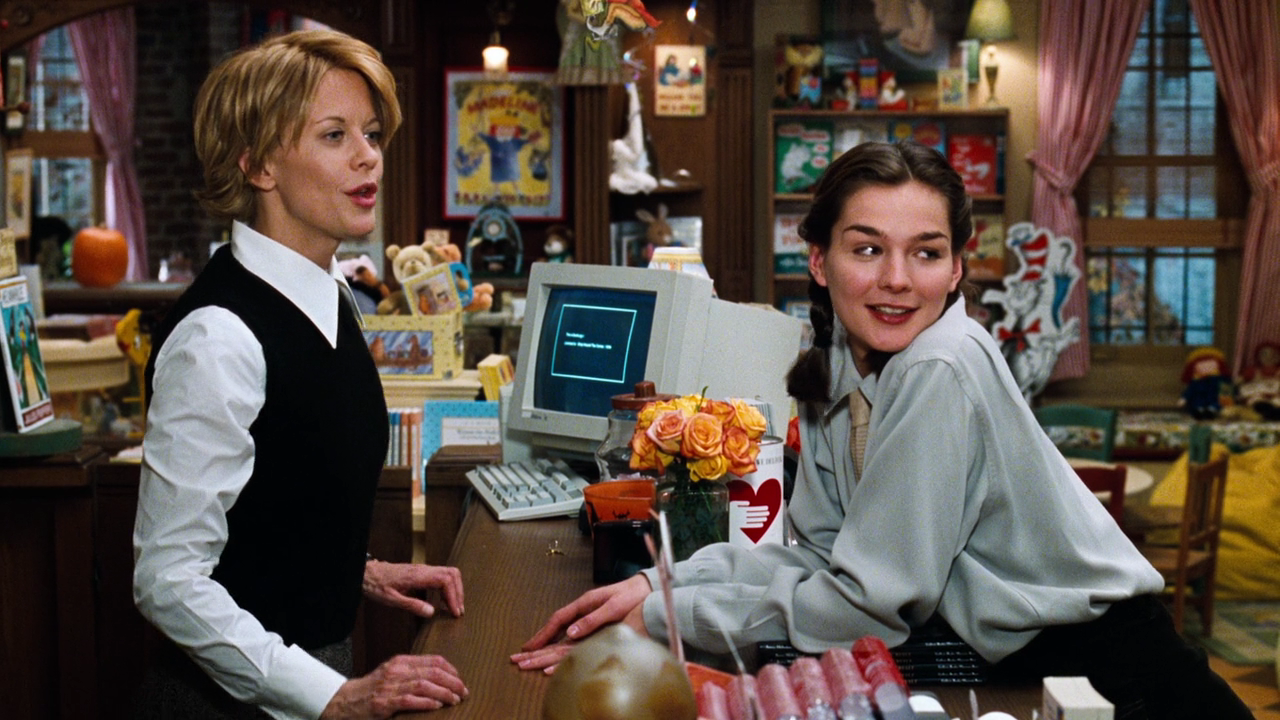 Silk collared shirt, tie, corduroy skirt, tights, beat up oxfords, and (not pictured) a gray, oversized cardigan sweater. Kathleen's ultra pointy collar is dope, too.
The book we hear the Storybook Lady read is "Boy: Tales of Childhood" by Roald Dahl.
George (Steve Zahn) mentions that his rent-controlled Manhattan apartment is $450/month for 6 rooms. Today, $450/month would get you one room in an apartment in East New York.
It's cute that Joe has a picture of Brinkley on his bedside table.
Points for mentioning "The Godfather," "Pride and Prejudice," Foccault, Heidegger, George Bernard Shaw, Mrs. Patrick Campbell, and "Anne of Green Gables."
Only in 1998 would an indie bookseller get her coffee at Starbucks.
Frank and Kathleen's break-up seems chill af, especially compared to Lawrence and Issa's (my mom and I watched Season 1 of "Insecure" last night, so that drama is fresh in my mind).
Meg Ryan's eyebrows are my nightmare. They start too far over and are thin, sad little lines. The 90s were a horrible time for brows.
I'm envious of Mindy Kaling's Nora Ephron holiday-themed dinner party.