Hello! Welcome to my little corner of the Internet where all women are treated like queens 👑 Woman in Revolt is a intersectional feminist film and TV blog that focuses on female artists and creators in front of and behind the camera. I write reviews, conduct interviews, and sometimes throw up 5,000 word diatribes about my complicated realtionship with Woody Allen and Richard Gilmore's fuckboy status. Please enjoy.
Why did you start this blog?
Have you read this article? It's pretty infuriating. Tl;dr: there aren't enough female film critics and because of this, female-centric films don't get enough attention. As something I once read on Tumblr stated:
Me watching a movie: There are too many men
Me reading a book: There are too many men
Me watching tv: There are too many men
Me learning history: There are too many men
Me living life: There are too many men
I don't hate men, but I do think they get an inordinate amount of attention, especially in the film industry. Did you know that in 2016, only 7% of top Hollywood directing jobs went to women? It's true; you can fact check that shit right here.
While they may not get top directing jobs, there have always been female directors out there making bomb ass films on a regular basis. I started this blog because I love to watch and write about film. Some of my favorite films are directed by women and hardly anyone I talk to knows about them because they're not taught in film school and they weren't written about enough when they premiered. I'd like to change that.
Who are you?
I'm Lindsay Pugh: cinephile, filmmaker, feminist, and INFJ. I enjoy running, reading, writing, and making/watching movies. I try to update my Goodreads profile regularly, so hit me up there if you'd like to talk about books.
I studied film (and a bunch of other cool stuff) at Allegheny College in Meadville, PA and The New School in New York, NY. I currently live in Ann Arbor, MI with my partner and cats. I have a full-time job that has nothing to do with film, so I use this blog as my creative outlet.
Whenever I'm feeling sad, I watch this scene from "Frances Ha" and feel better about the world:
Then I watch this scene from "Magic Mike XXL" and feel even better:
Who are your favorite directors?
Apichatpong Weerasethakul
Jane Campion
Andrea Arnold
Maren Ade
Chantal Akerman
Agnes Varda
Krzysztof Kieslowski
Abbas Kiarostami
Wes Anderson
Jonas Mekas
Claire Denis
Are you the only person who writes for this blog?
For the most part, Yes. Meg Campbell, Kyle Beechey, Ali Lappas, and Emma Banks  have all written for this blog in the past, so check out their posts if you want to read something that isn't written by me.
I'm always looking for more voices to add to Woman in Revolt and I would love it if you emailed me with a pitch idea or recommendation. I'm just one person and I acknowledge that my perspective is definitely limited.
Is writing this blog your job?
Lol no. I work as a digital strategist for an interactive agency in NYC. Here's my About Me if you want to stalk me on other parts of the Internet. If you ever wonder why it takes me so long to post things, it's because I'm doing something completely different 45+ hours each week.
Which blogs/critics do you read?
Most of the stuff I love is dead (RIP The Dissolve) and I try to read books more than blogs. I also love a good podcast (RIP Bonnie and Maude).
What is your cat's name?
You think I only have one cat? That's cute. I have three and their names are Eloise, Bea, and Gink. No one ever actually asks me this question but we all know this is a vanity FAQ, so why wouldn't I indulge myself?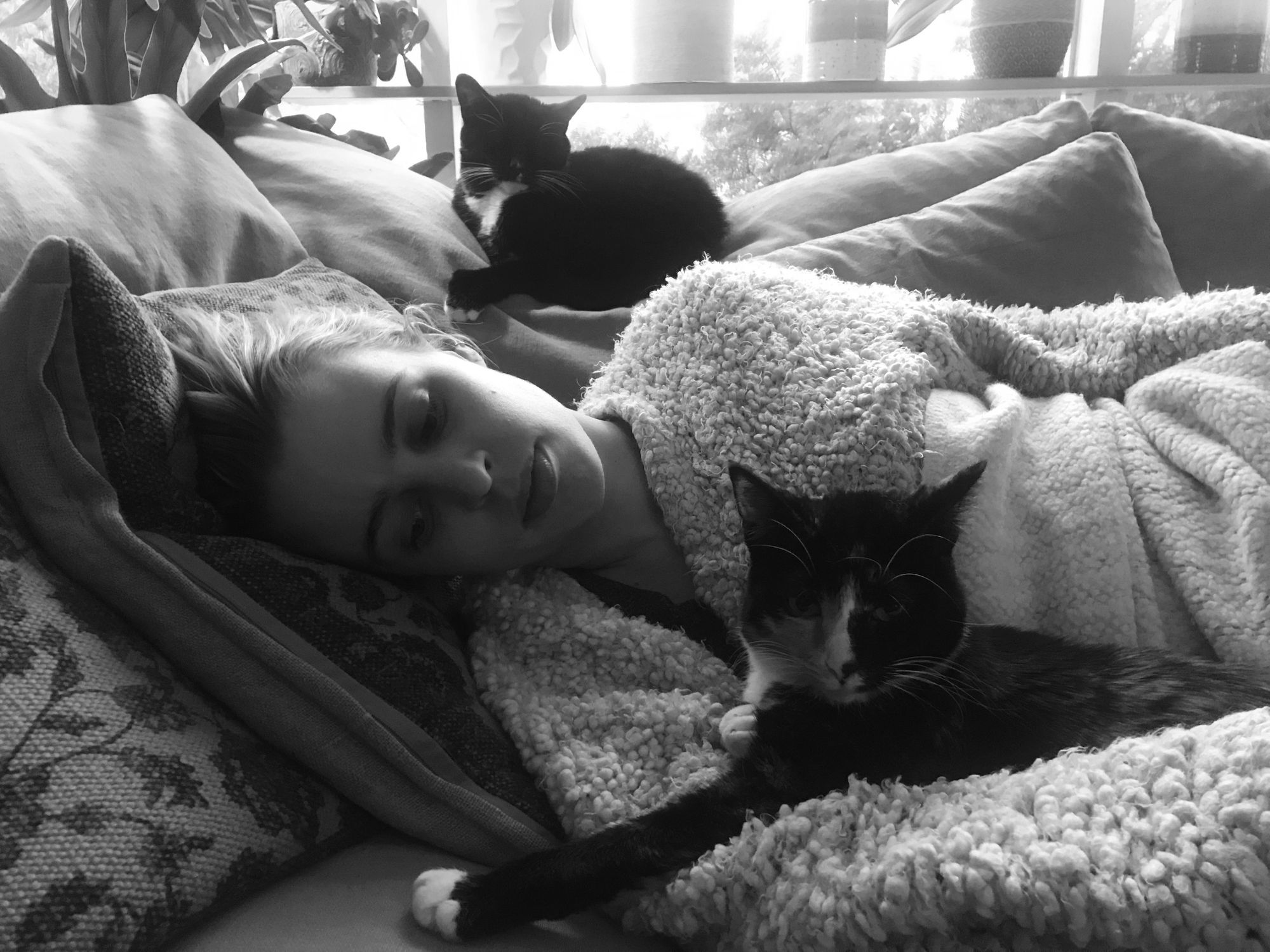 Will you review my film?
Sorry, but probably not. It's hard for me to commit to anything because my work and travel schedule often change at a moment's notice. If you reach out to me via email and I don't respond, try not to take it personally.