At the Wolford, Midge continues pushing for improvements despite everyone else's comfortable complacency. I relate hard to Russell (Matthew Jeffers), a behind the scenes guy who just wants to collect his paycheck and GTFO. I was this person at my last job, but less successful at setting boundaries. Please admire the skillful way he rebuffs Midge when she tries to get him to do more work.
Midge: The curtain's stuck.
Russell: It happens.
Midge: Yes, but what should we do?
Russell: Hey. I separate nuts and bolts. See? I put nuts with the nuts and bolts with the bolts. You are a stripper who doesn't take anything off and just stands there yelling at people. This is neither of our problems.
No one gets hit in the head with a hook this time, but the burlesque club is still a hot ass mess where the microphone doesn't work and the musicians are on quaaludes (I assume). By the end of "Interesting People," Midge manages to orchestrate several improvements before unceremoniously toppling off the stage and into the pit. I hope she shows up in the next episode wearing a medical boot with her Dior a la Samantha Jones after the hand-holding sidewalk hatch fiasco.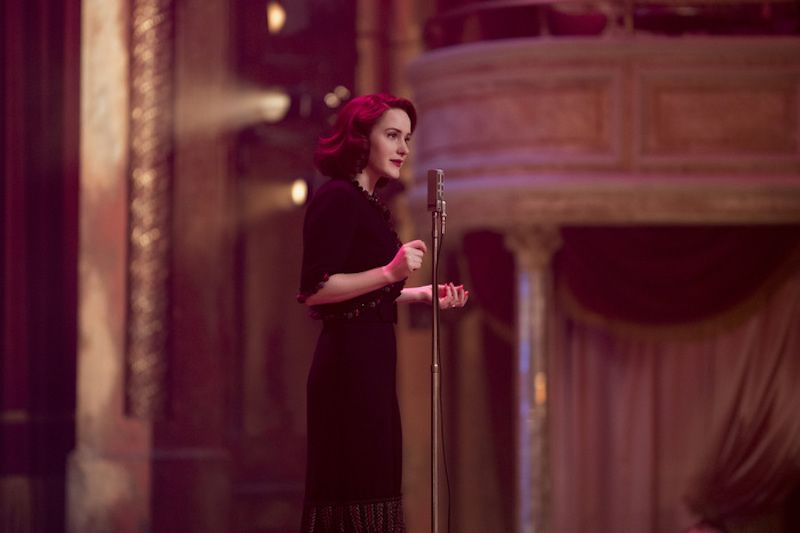 Along with Midge's small wins, like dressing room privacy for the ladies and a functioning spotlight, her biggest accomplishment thus far is eliciting legitimate interest from the patrons and staff at the Wolford. Gloria even tells her, "Boy, you're almost as funny as the men comics," reminding me that internalized misogyny is a real motherfucker. It's a subtle shift, but there are definitely more women in the audience who have presumably shown up to see Midge.
As misguided as it is, I understand why she is so adamant about getting away from opening act gigs. Over three seasons, we've seen her become a more adept comedian. Her jokes are funnier and the delivery feels polished. She can command an audience like a headliner ... but how is she going to do that if the only place where people can see her is an illegal strip joint?
When Midge shows up at the Button Club to test out new material and casually reveals where she's been performing, Joel echoes Susie's concerns that it feels like a career step back. At this point, I'm not yet sure about Midge's motivation. I can't tell whether she's egotistic enough to believe that she's making the right moves or afraid of another large-scale failure after being fired by Shy Baldwin.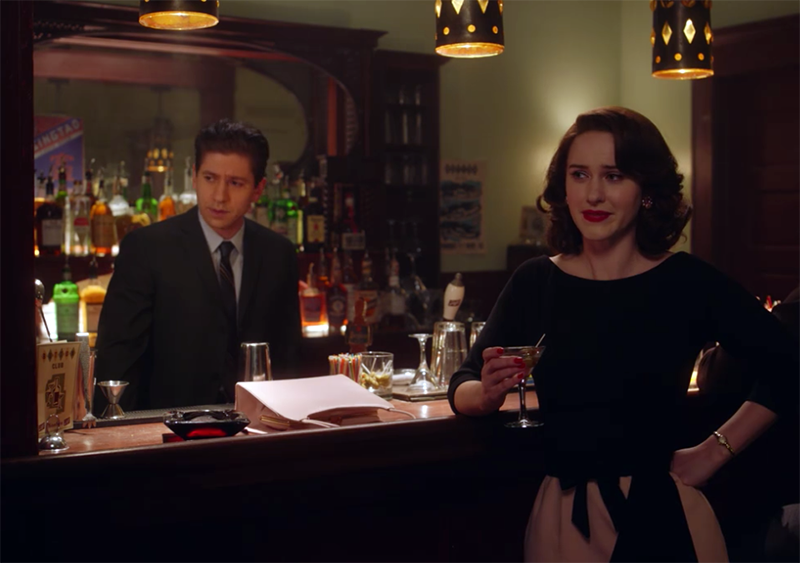 There's an awkward moment of Looney Tunes-induced tension when Mei shows up at the club and sees Midge talking to Joel. Everyone is cordial, but the secretive nature of Mei and Joel's relationship has intensified underlying insecurities. Mei wonders if Shirley, who is still hellbent on fixing her son up with a nice (Jewish) lady, is trying to resurface Midge as a viable option. Joel wants Mei to meet the elder Maisels, but she's not exactly keen to subject herself to the anti-Chinese backlash sure to come. I think I like where the writers are going with this storyline, but Mei could use more character development. I wish we got to see her without Joel for a better sense of what her independent life is actually like.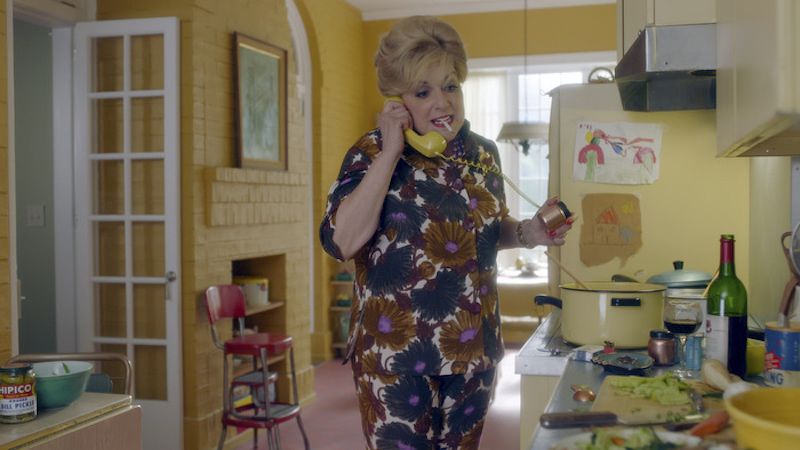 Although I remain perpetually worried about Joel and Midge getting back together, it doesn't seem like the show is heading in that direction. At the start of the episode, Midge is on an awful date with a doctor who spent time in Spain and now enjoys holding other people hostage with his A1 level Spanish. When multiple martinis fail to make him tolerable, she calls Susie and employs their secret "get me the fuck out of here" phrase which is inexplicably, "I wore the wrong hat." The scene where Susie shows up with the sick kid excuse only to find that el gilipollas is a pediatrician had me choke-laughing. Of course this asshole is a pediatrician! He probably wears bow ties and subjects children to the 1960s equivalent of "Baby Shark" (but in Spanish).
Post-rescue from the bullshit date, Midge and Susie re-emerge at the Wolford's movie night with Chinese food. Only in the Palladino universe does a strip club host an after hours employee screening of "Easter Parade" (1948). I want to live in Amy and Dan's collective brain space where good books and movies find a way to creep into every facet of life.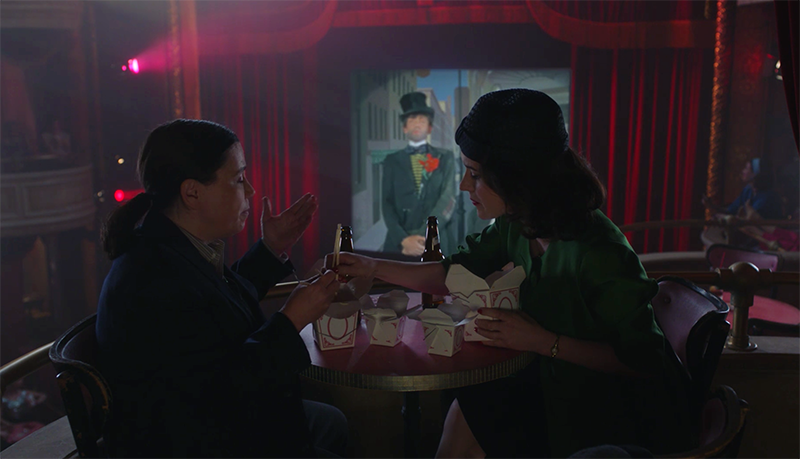 As they discuss Midge's romantic ideals, Susie's love life comes up for the first time ever. She avoids divulging any real information and expertly digresses by telling Midge, "Maybe I've been hanging out with you for too long, but I actually do think you wore the wrong hat." I have no idea what time of year it is (early fall?) but based on how everyone else is dressed, straw hat season appears to have passed. I agree with Susie on this one.
I've been wondering since the pilot if "Maisel" was ever going to address Susie's sexuality. After the faux wokeness exhibited in "Gilmore Girls: A Year in the Life," I wasn't exactly keen for the Palladinos to tackle this topic in the pre-Stonewall era. With that being said, I enjoyed the approach in this episode.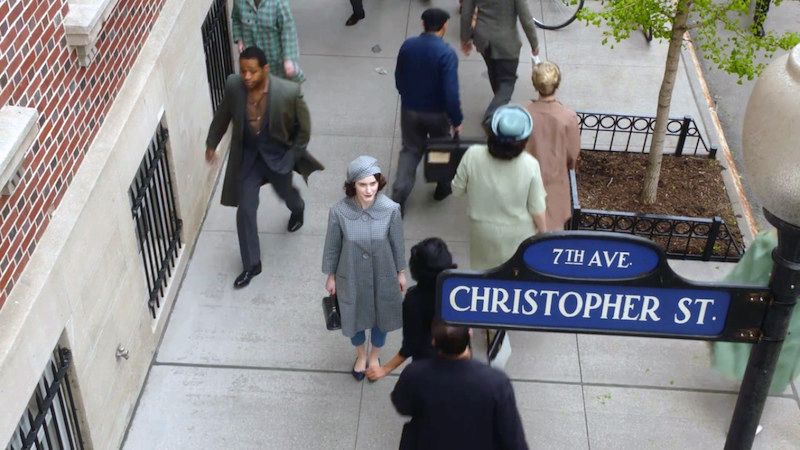 Susie's movie night evasiveness makes Midge realize how little she knows about her friend's life. In an attempt to prove her allyship, she hangs out on Christopher Street in search of a gay man who can advise her on where to find a lesbian bar. Eventually, John Waters (!!!) throws her a bone and proffers a recommendation. My favorite thing about this scene is how Midge and John use the fact that they're both wearing Dior as proof that they aren't cops.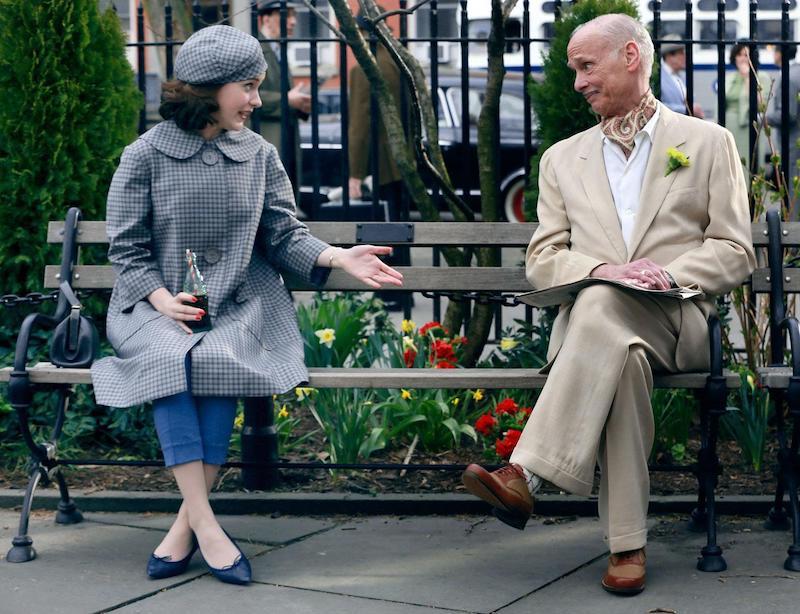 When Midge takes Susie on a surprise outing to JW's supremely cute establishment of choice, it doesn't go as planned. Midge has good intentions/wants to show support, but Susie isn't ready to address that part of her life with herself or anyone else. And when she is, her straight friend isn't who she'll look to for guidance. She tells Midge, "You think I don't know how to find a lesbian bar? There are three within rock-throwing distance. Two doors down, there's guys sticking their fists up each other's asses. This is my town. I know everything." I'm aware that some "Maisel" fans would like to see these two in a relationship but come on ... I'll eat my hat if Midge is anything other than a 0 on the Kinsey scale.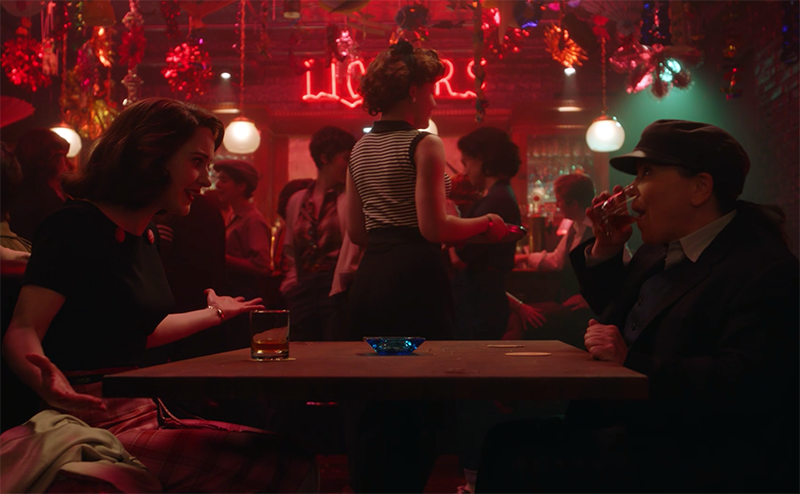 In an interview with Page Six, Alex Borstein shares this read: "I feel like Susie has never taken the time or had the luxury of figuring that part of her life out. I think she is a bit of a 40-year-old virgin." For someone struggling to get by and then throwing herself wholeheartedly into a new career, this checks out; however, I hope we eventually get to see Susie in a stable place where she's able to fully explore her sexual identity.
For now, Susie is keeping the promise she made during her eulogy by finding the "Jackie's of the world" and making sure they don't go unnoticed. Alfie, the annoying magician from the premiere, is now one of her clients. Thanks to Nicky (John Scurti) and Frank (Erik Palladino), she now has a new apartment/office where she can start building her business. On the one hand, it's a place she can afford with a great view; on the other hand, she's now indebted to two mobsters who joke about castration and once tried to murder her. At least she can now ease Abe's resentments by vacating the Weissman apartment. Let us not forget that he was back on the squash court at 6:00AM the morning after his good friend, Mordecai Glickman, died. ("I forgot that it was to play Mordecai, so it was all for naught, but you get my point.")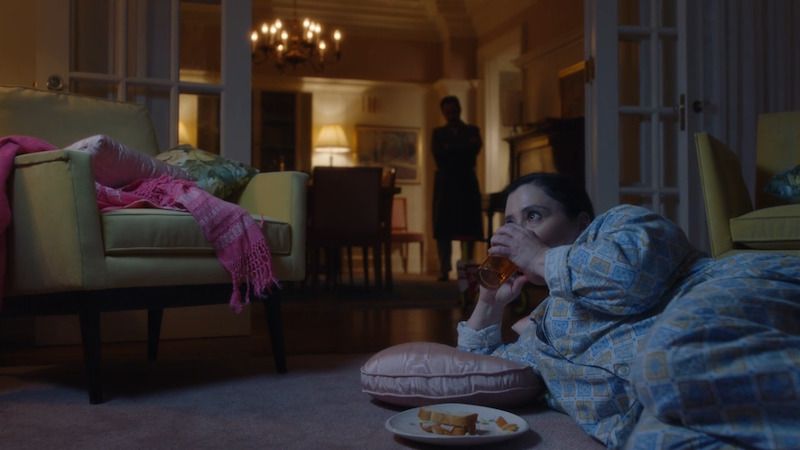 Aside from his killer joke about Mordecai, "Interesting People" features Abe at his most insufferable. Who gives a fuck if Rose and Asher dated for one month thirty-five years ago? Abe was busy with his Ph.D.! It's not like Rose cheated on him and kept it secret for decades. I guess I can understand feeling hurt/angry, but not ratting a friend out to the FBI over it and potentially fucked up their entire life. The whole ordeal inspires Asher to write a play, so at least the betrayal comes with residual benefits.
While I find Asher's gossipy reminiscences of Dorothy Parker, Josephine Baker, et al. interesting, I couldn't help but wonder (in Carrie Bradshaw fashion) why the writers didn't cook up a better B story for Jason Alexander.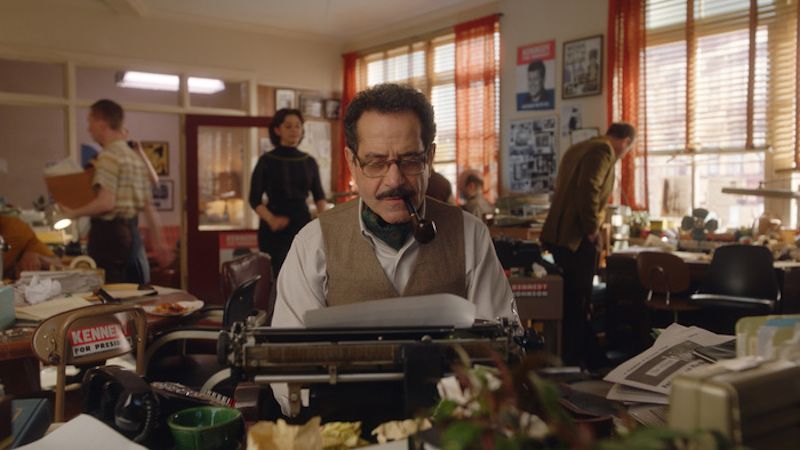 Random observations:
At this point, Amy and Dan have written and directed all of the episodes (three and four were co-written by both), which continues to astound me. I wonder if they break stories in
Who the fuck moves to another state and leaves their pets behind? I hope Lidia gets a chronic yeast infection. Dribbles probably ate that pasty because he's been alone without food for days.
I want to see Susie in Midge's kumquat daisy dress with reverse pattern hat, along with Rose's Louise Brooks haircut.
Lucille is out of the mental health facility and wants Susie to help get her career back on track. She also admits to trying canned dog food, which ... we've all been there.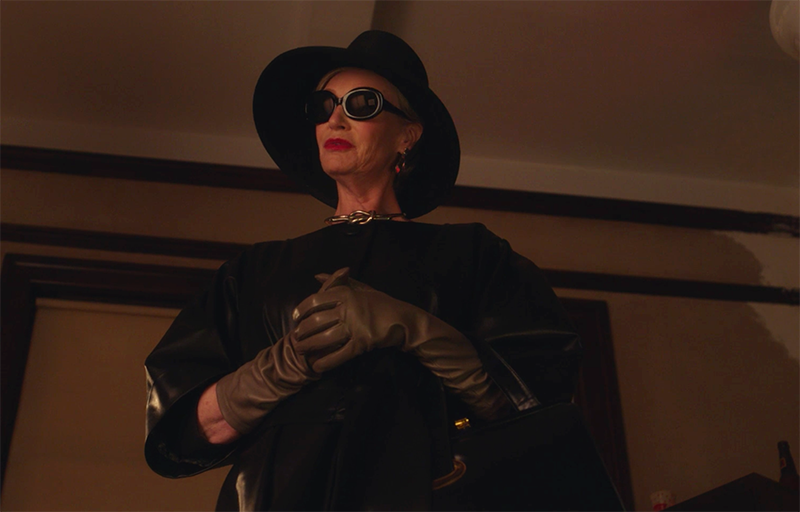 I love that both "Euphoria" and "Maisel" featured Jonathan Richman's "I Was Dancing in the Lesbian Bar" in their most recent seasons. I am heavily considering a pilgrimage to Boston for his June concert.
A spent condom really is the quintessential New York City souvenir.
One of the burlesque dancers is clad in an assortment of pastel-colored kitchen supplies. It looks like a cheese grater is hanging from her crotch and a bundt pan is covering her ass. Is this some sexual fantasy that I am unaware of?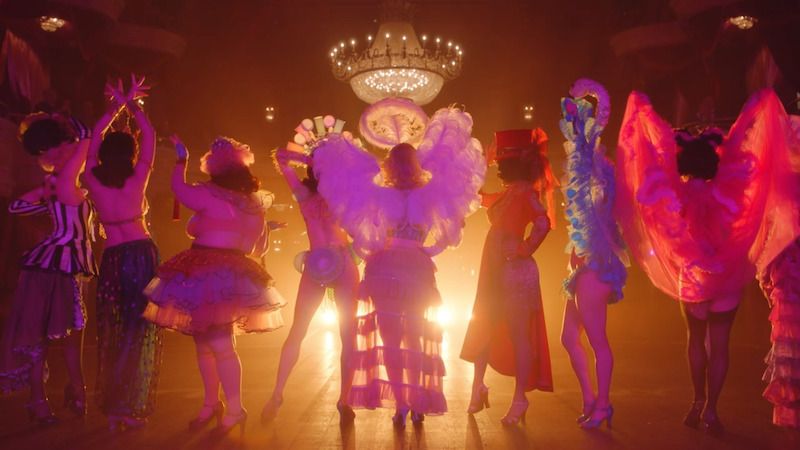 The episode title comes from Leonard Bernstein's song, "Christopher Street," from the 1953 musical, "Wonderful Town."
Gordon Ford's guest du jour: (fake) Alfred Hitchcock (Ric Stoneback).
Tony Shalhoub deserves an Emmy solely for his perfectly exasperated line reading of "I don't have to make pee-pee!"
Check out this intense Jell-O mold at the Asher dinner. As far as I can tell, it contains tomatoes, peas, hard-boiled eggs, and olives.